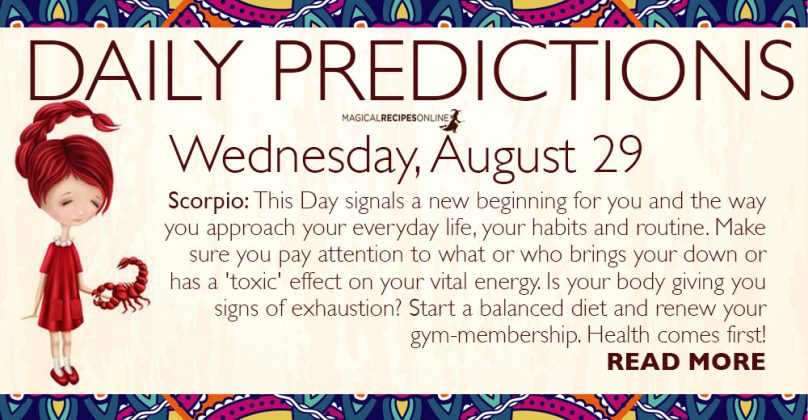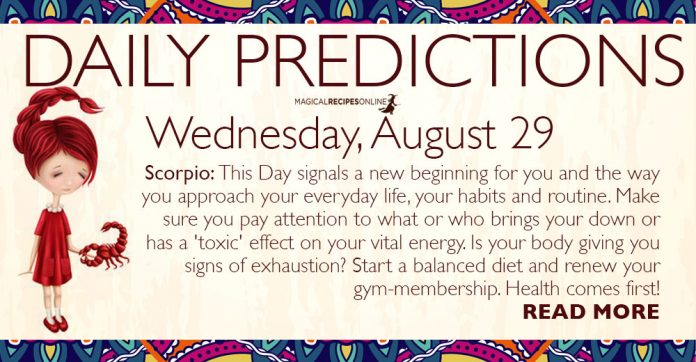 General Daily Predictions: Today, the Moon entered Aries, thus began a new series of Lunar Journey in the Zodiac Circle. It feels like Spring again and actually this energy will give us the power to reform our lives and actually face ANYTHING that may come on our way!
Moreover transit Moon trines North Node today. Thus, Karma smiles to us, helping us achieve what is rightfully yours. This is a good day to use your social skills and your natural charms to get things done and bring in your life what you've always needed.
Let me remind you that Mars turned back into direct motion. Although is still stationary, Mars began to increase his speed in direct motion.
Aries, Leo and Sagittarius will be the luckiest zodiacs of the day. Libra, Cancer and Aquarius will be the less lucky ones.
Daily Predictions for Aries:
Today the Magic of the Moon has entered your heart and you feel like you're born again. Something magical is streaming from inside your soul and you feel capable of accomplishing anything. Both professional and personal matters can be successfully processed.
Daily Predictions for Taurus:
Today and for the next couple of days your are feeling more magical that usual as the light of the Moon is focused in the most secretive part of yourself, where your true magic dwells. This is why you should note your dreams and keep an eye open for omens and signs from the Universe.
Daily Predictions for Gemini:
This is actually a lucky day for you Gemini, and now that Mercury is finally direct, you can use it to get things done. Your social skills are even more amazing and your mind works in a magnificent way, having inspiring ideas and innovative solutions in your problems. Don't hold back and communicate!
Daily Predictions for Cancer:
The Moon shines all its light in your Career and your Professional life. This is why you should definitely pay attention there and try to keep calm, avoiding possible quarrels and misunderstandings. Other that this, Karma smiles at you and opportunities might knock your door!
Daily Predictions for Leo:
This is a great day for you to reach out and set new goals for your future. You see, good luck is by your side giving you the emotional feedback you need to leave the Chaos you've experienced for a couple of months. Now, optimism gets back in your heart!
Daily Predictions for Virgo:
Today is a day for change. Deep, profound and karmic change! What has happened in the past belongs to the past. Now you are free to break the chains of emotional torture and forget – or at least try – all the painful memories this summer caused you. your instincts are awakened and your Magic shines brightly. Career and financial issues are favored.
Daily Predictions for Libra:
This day actually feels like a personal full Moon for you as the lunar forces bring you mood swings and intensify emotional stimuli. And of course, all this doesn't go unnoticed. Your personal and professional relationships can actually be influenced so be careful and try to keep calm when things seem to get out of your hands. Peace should prevail.
Daily Predictions for Scorpio:
This Day signals a new beginning for you and the way you approach your everyday life, your habits and routine. Make sure you pay attention to what or who brings your down or has a 'toxic' effect on your vital energy. Is your body giving you signs of exhaustion? Start a balanced diet and renew your gym-membership. Health comes first!
Daily Predictions for Sagittarius:
What a promising day for you guys. Now that still your governor is forming a trine with Neptune – helping your dreams come true, the Moon is showing you that you can be successful in your life and have fun at the same time. Invest on things that make you smile and replenish your vital energy!
Daily Predictions for Capricorn:
Today, the stars are telling you to focus on your family and your house as things there may get interesting and intense. Going back to your roots may actually give you the spiritual and material feedback you need to move on. Constructing or reconstructing things at home is also favored. Invest on quality time for yourself!
Daily Predictions for Aquarius:
Today is a good day to communicate and hang out with the ones you love the most, the ones who were always there for you. Therefore, friends and closest relatives play a very important role for you today. They may probably ask for your help but they can also help you solve your personal or professional problems. Journeys, education and commerce are also favoured.
Daily Predictions for Pisces:
Today is fairly obvious that you need to stick to your plans and invent new way to manage your expenses as well as find new innovate paths to expand your income. The road to abundance can be close as long as you filter all the parasitic thoughts in your mind and heal the wounds of the past. Remember, money is merely a manifestation of how Cosmic Energy flows through you!
Astrology and Magic:
Wish manifestation and all forms of potions, philtres and talismans are strong today.
That's all. Have fun and enjoy your day!