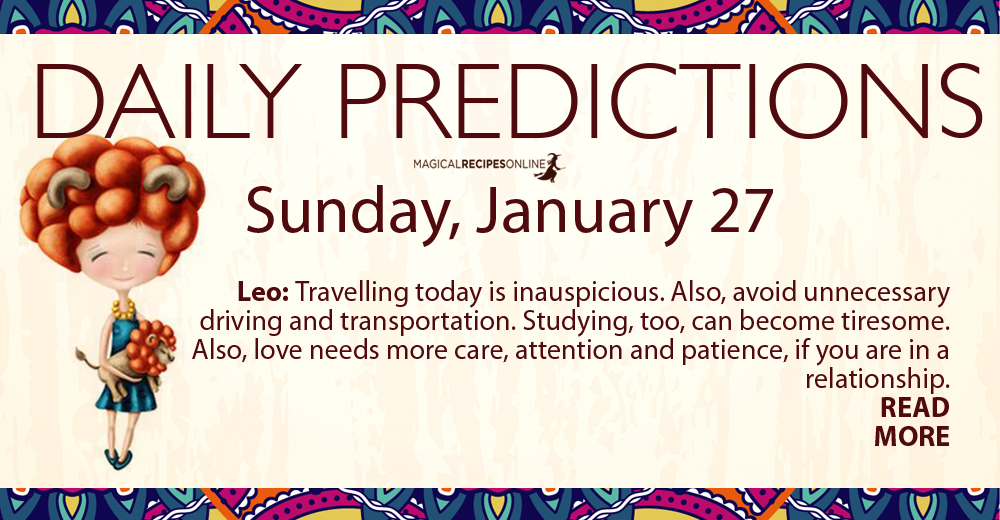 General Daily Predictions: Today, the Moon from Libra opposes Uranus in Aries. Then from Scorpio it squares both Mercury and the Sun in Aquarius. Furthermore, from 05:21 to 07:31 UT it will be void of course.
So, this is going to be a difficult day.
Gemini and Taurus will probably be the luckiest zodiacs of the day. Libra, Scorpio, Sagittarius and Aries will be the ones receiving the most stress.
Daily Predictions for Aries:
Some changes in your plans may cause you some extra stress. Also work can become more tiresome than rewarding. Trade and, especially, trade of services will experience this influence more intensively.
Daily Predictions for Taurus:
Health, emotional health and your stress levels may need some of your care and attention. Also, avoid taking important decisions regarding your job and career. If possible, postpone business meetings and meetings with important clients, as well.
Daily Predictions for Gemini:
Your special someone may stress you one way, or another. Possibly because they are dealing with some difficult situation, themselves. Also, studies and studying can become quite difficult. The same goes for all job of the mind and the spirit.
Daily Predictions for Cancer:
Both work and love life needs some attention. Patience, too. Some unpredictable events can take place and they can put you out of balance. Try to focus more on the good point of the day, even if they seem to be just a few.
Daily Predictions for Leo:
Travelling today is inauspicious. Also, avoid unnecessary driving and transportation. Studying, too, can become tiresome. Also, love needs more care, attention and patience, if you are in a relationship.
Daily Predictions for Virgo:
Work can become tiresome, stressful and not as profitable as you'd expect it to be. Trade, especially, as well as health related jobs will experience this influence more strongly.
Daily Predictions for Libra:
Love life needs much of your attention, today. Your other half is either in a foul mood, or they can get you in one, easily. Try to not overreact. Kids can play a similar role. Also, try to avoid unnecessary expenses, today.
Daily Predictions for Scorpio:
Emotional and mental health and well-being need some attention and care, today. Your family can also stress you. In most cases money can be the cause of it, as well as some discouragement regarding your work.
Daily Predictions for Sagittarius:
Updating your firewall and antivirus and backing up your important files is advisable, today. Furthermore, computers, smartphones and other such devices may act a bit irregularly. Also, friends and siblings may cause you some kind of stress.
Daily Predictions for Capricorn:
Business can become a little stressful. Especially, family ones. Also, work can be less profitable and productive than you'd think. Furthermore, it's not an auspicious day for buying high-tech gadgets and equipment.
Daily Predictions for Aquarius:
Studies and researches may need some more effort than usual. Quick and flexible thinking isn't in its best condition, either. Also, this is a difficult day for starting a new business, or achieving some significant success regarding work.
Daily Predictions for Pisces:
Money can be stressful. Furthermore, though, your own mind and psych tend to create stressful thoughts and focus more than necessary on the problems and negative situations. Try to control this tendency and things will be much easier.
Astrology and Magic:
Today's energies are quite tense. Calm and relatively passive methods work better than intense and active ones.
That's all. Have fun and enjoy your day!