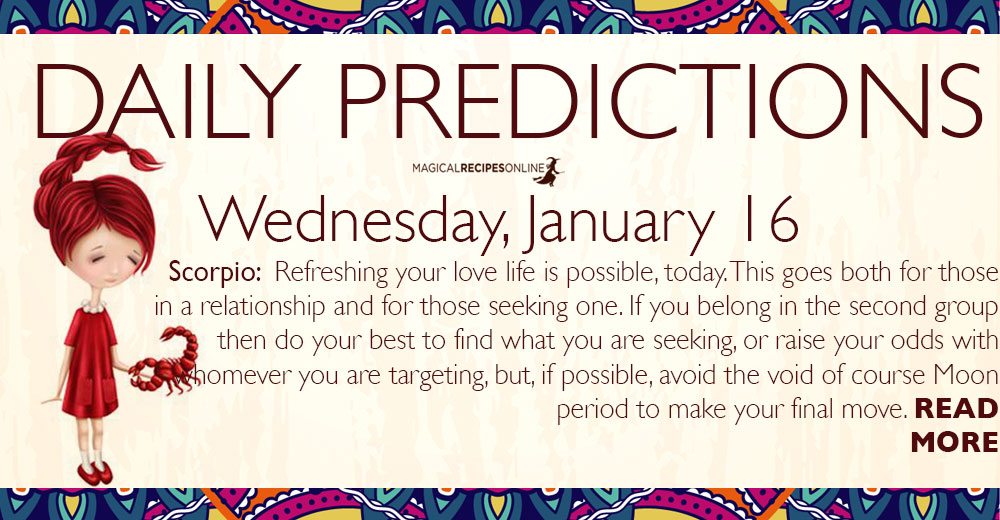 General Daily Predictions: Today, the Moon from Taurus forms a triangle with each the Sun, Mercury and Pluto, all of them in Capricorn. Then it goes void of course from 18:34 UT to 01:00 UT of the 17th.
Pluto being hyperactive always can cause some psychological issues to act up a little. Today, probably nothing more than that. Also, the long void of course Moon period makes new beginnings, new contracts and new deals not advisable. Other than those points of attention, though, the day will be a mostly good one.
Taurus, Capricorn and Pisces will be the luckiest zodiacs of the day. Sagittarius and Aries will be the less lucky ones.
Daily Predictions for Aries:
Work and money receive beneficial influences. Job interviews, also receive very promising influences, if they happen before the void of course Moon. Medical and pharmaceutical jobs and those based on communications, or transportations receive the most supporting energies.
Daily Predictions for Taurus:
Creativity and inspiration are still strong for you, today. There is also some good luck helping you manifesting those, if you take the effort. Also, this is a good day to start learning things, or enrol in a school, or seminar, as long as you do these before the void of course Moon period.
Daily Predictions for Gemini:
Your spiritual and magical powers are quite strong today. There is also much creative imagination. This can help artists, but, also, every task that needs some imagination. Also, being with people who matters to you can become very fulfilling, today.
Daily Predictions for Cancer:
Your business partners and your life partner can give you many pleasures today. They can have some pleasant news to share with you, or they may help you, or support you with your own plans.
Daily Predictions for Leo:
This is a good and, probably, important day for work and career matters. Advancement and achievements can happen in the field. Also, it's a good day for starting a new business, or a new job. Preferably, before the void of course period, though.
Daily Predictions for Virgo:
Every job and task that needs a clear, creative, quick and diplomatic thinking receives beneficial influences, today. Jobs that make use of these qualities can have a productive and, possibly, relatively easy day.
Daily Predictions for Libra:
Things are probably calm for you, today. Your mood may not be in its best condition, but the support you are receiving from those who you consider important will make it much better. Although they may do this spontaneously, it doesn't hurt to ask for their support.
Daily Predictions for Scorpio:
Refreshing your love life is possible, today. This goes both for those in a relationship and for those seeking one. If you belong in the second group then do your best to find what you are seeking, or raise your odds with whomever you are targeting, but, if possible, avoid the void of course Moon period to make your final move.
Daily Predictions for Sagittarius:
Work and money matters proceed nicely, today. Good luck may also help and support you. Also, if you want to make small scale redecorations or renovations to your place of living or working, this is a good day to make those.
Daily Predictions for Capricorn:
This day is a very supporting day for you. It can help you with whatever you want to achieve. Moreover, it can become quite lucky and pleasant, too.
Daily Predictions for Aquarius:
This is a good day to spend with family and whomever you consider as such. They can become quite supportive and touching. They will also enjoy and appreciate your company.
Daily Predictions for Pisces:
All forms of practical studies and learning receive very supportive influences, today. Further developing your work skills, or the skills you'll be needing in the job you are looking for, receives very good influences. It's also a good day for trade and most jobs.
Astrology and Magic:
Most forms of magic are strong, today. Philtres, talismans, potions and perfumes, even more so.
That's all. Have fun and enjoy your day!