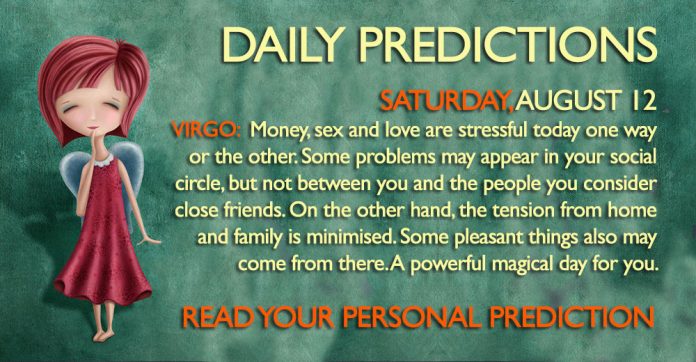 General Daily Predictions: After a relatively lazy day for the Moon yesterday, today we'll have an extremely busy one. The Moon will form a square with Venus in Cancer, a square with the retrograde Pluto in Capricorn and an opposition with Jupiter in Libra. These are the negative aspects. It will also form a three auspicious aspects. A triangle with Mars and the Sun in Leo, and a triangle with Saturn in Sagittarius. And all these while Mercury from Virgo is stopping its direct movement to turn retrograde from tomorrow on.
Calm is something this day won't be. This is probably a very stressed day and very dynamic one. The negative aspects are almost as strong as the positive ones, so whether the day will be mostly negative or mostly positive depends mostly on us. The heightened energies of Mars will provide us with enough energy to work throughout the day, but also they will shorten our temper when dealing with the negative events and situations. Keep your calm and make the best out of the day.
Leo and Sagittarius will be the luckiest zodiacs. Cancer, Capricorn and Libra will be the most stressed ones. Aries will receive the maximum power of all the aspects, so neutral, but the exact opposite of peaceful.
Daily Predictions for Aries:
Your home, family, spouse or partners and your career will be the areas that need more attention today. The ones which will stress you more. On the other hand love affairs, that haven't yet became long term, will bring you the most joy. Do you have children? Then them may also become a reason for you to smile.
Daily Predictions for Taurus:
Support your psychology and focus your thoughts to positive and desirable things. A tendency for depression and negativity is born, and your close friends don't seem at all supportive. On the contrary, they may be the source of it. Your magic is very strong though, so build what you want, not whatever express your fears and disappointments.
Daily Predictions for Gemini:
Money and love life will be underlined today and mostly in a negative way. Maybe some problems of this kind are originated from the other half. Your friends, and siblings are the source of your power and joy today. Depend on those. Partners also support you.
Daily Predictions for Cancer:
Job goes very smoothly. If something unexpected happens there today, it will be a good thing. On the other hand, whatever you consider your personal space, including your self, your family, your thoughts, etc., will generate some stress.
Daily Predictions for Leo:
You feel happy and satisfied with yourself today. Love life goes also well. Maybe an old relationship comes back, better founded, in order to stay. Siblings, sibling figures, your work and your health, mental and bodily, need a little more attention.
Daily Predictions for Virgo:
Money, sex and love are stressful today one way or the other. Some problems may appear in your social circle, but not between you and the people you consider close friends. On the other hand, the tension from home and family minimises. Some pleasant things also may come from there. A powerful magical day for you.
Daily Predictions for Libra:
Career and your relationships with your partners may stress you. Family also may stress you mostly regarding your career or what you consider as your place in society. Your friends and acquaintances are the ones who bring you joy, so try to be with them and also receive their advice. A new partnership with a friend is possible. Even more so if this was something you wanted for sometime now.
Daily Predictions for Scorpio:
This is a very good day for whatever has to do with job, career and money. Regarding money, some debts from your past may seem a little more demanding today, but they just demand a solution. Give it today and you'll be much better in the future. Stress levels are hight and your close friends don't seem helpful today. They probably are preoccupied, rather than indifferent.
Daily Predictions for Sagittarius:
This is a more pleasant day for you than the previous ones. You feel motivated, inspired and ready for action. Listen to these inner "sensations" and star acting to better yourself and your life. Establish the foundations of your happiness even if just a bit. You may need to spend some extra money. Spend them wisely, if you can choose.
Daily Predictions for Capricorn:
Spend some quality time with yourself and organise your thoughts, your goals and your dreams. It is a very good day for you to work your magic too. Family and whoever you consider as family are supportive and a source of inspiration, even without their knowledge or intention. Career and partnerships can stress you. Maybe more than a little.
Daily Predictions for Aquarius:
A very social day. Every aspect of your social life is empowered and benefited. So, socialise as much as possible. New people, and people you've lost contact with, may appear. Work is hard and probably stressful. Wouldn't consider it bad though. Just hard and stressful.
Daily Predictions for Pisces:
Job and career go smoothly and maybe even better. You also seem to be lucky with money today. Mostly small things, but try your luck – with moderation – in a lottery. Especially the kind that gives results instantly. Some attention is needed to your love life. If you are in a relationship, consider the possibility they have some problems they don't want to burden you with, and this may cause some tension between you.
Astrology and Magic:
Magic regarding love, beauty and health is very strong today. We are in a waning Moon, so the ones removing the problems are more suitable, but don't hesitate to work creatively as well.
That's all. Have fun and enjoy your day.