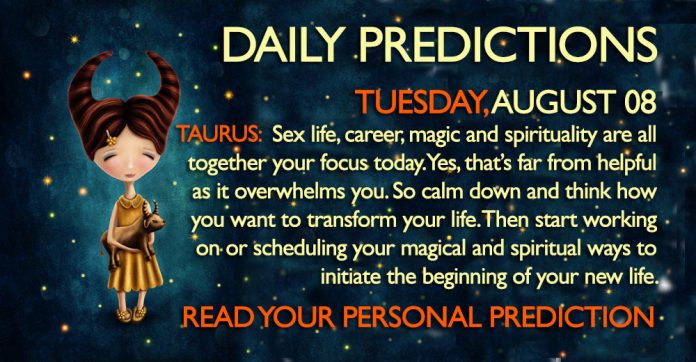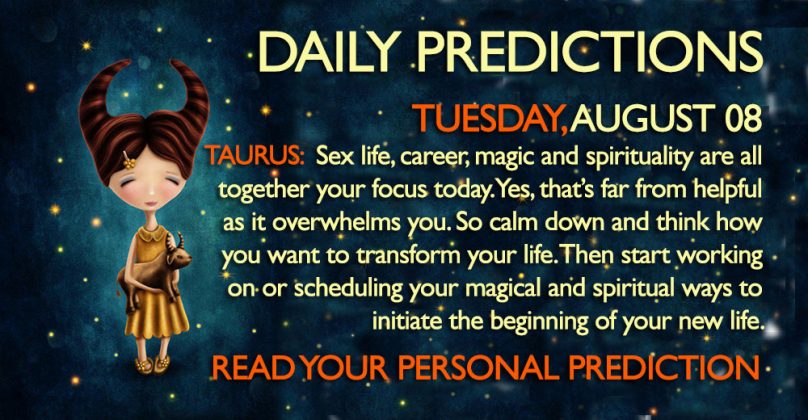 General Daily Predictions: The influence of the Lunar Eclipse is still strong. As we said, depending on the place of the world, it may be even stronger. Australia and Asia may prefer refer to the predictions of the Eclipse, although I would suggest it for everyone.
Today the Moon will form some beneficial aspects, reducing somewhat the negative influences of the eclipse. On the other hand, it will stress its karmic influences. That's goes both for the past karma, and the one we now build. These beneficial aspects will be a hexagon with Saturn and a hexagon with Uranus. Later on the day the Moon will cross the borders of Aquarius and will enter Pisces. This is an influence that will affect a little only the second half of the day for those living in the American Continent.
Sagittarius and Aries will be the luckiest zodiacs. Cancer, Libra and Capricorn retain the supportiveness of the eclipse. Gemini, Leo and Pisces will be the most stressed ones.
Daily Predictions for Aries:
The way you see yourself and your life is your focus. How are you and how are you related with the people around you and the world? How will you be and how will you be related with the people around you and the world in the future? This kind of thoughts occur in your mind. Main difference is, hope for a better tomorrow has been born. Take notes of what you believe you should do, but don't act yet. Wait a few days and review your notes.
Daily Predictions for Taurus:
Sex life, career, magic and spirituality are all together your focus today. Yes, that's far from helpful as it overwhelms you. So calm down and think how you want to transform your life. Then start working on or scheduling your magical and spiritual ways to initiate the beginning of your new life. A Mantra for Pleasure and Happiness may be a good start.
Daily Predictions for Gemini:
How should your relationship with your partners, business and life alike, should be? How should your overall social life should be? This are the questions you are faced with today, willingly or not. I would advice to beat your tendency to engage in quarrels today. Don't silence your inner voice. Respect it. But this is not the time to express it uncontrollably.
Daily Predictions for Cancer:
Work and career are important today. You may even want to buy new clothes more suitable for the wished job. You may actually do that, or other appearance changes that make you more compatible with your desired job. These are good, but don't overspend today or the next few days if you can avoid it. Magic on these subjects is also favoured.
Daily Predictions for Leo:
Travelling to foreign countries, or even overseas is still something you should avoid, but planning for such trips is favoured. So, if you want or need to travel either for pleasure or for work, plan now. Love life and happiness is challenged, but not too strongly today. In some cases, it may be done in a positive way too.
Daily Predictions for Virgo:
Keep taking good care of your health, although most of the problems, if not all, the eclipse awaken, are now calming down. Changes in jobs are possible, and today are hued more positively than the days before. Planning a renovation or a change of your home? That's good. Plan – don't act, unless you can't avoid it.
Daily Predictions for Libra:
Your lover or spouse and your relationship with them is your focus. Yes, this focus was forced upon you by the eclipse, and today it's probably even stronger. I think, though, that this happens in a better way. Or calmer and clearer way to be more accurate. Now you know better, and that is a good thing on its own.
Daily Predictions for Scorpio:
Your home and family are the main focus of the day. You may have to invest some money there. If it is "some" do so without a second thought, but if it's more than that, you may prefer to rethink about it in a couple of days. Regardless the situations though, you have a feeling things are changing for the better. And this feeling is supported by some things, little ones or of greater impact.
Daily Predictions for Sagittarius:
Siblings, close friends, children and loved ones will keep stressing you. You may come to think of your position in their company and if it is what you wanted for yourself. If you are one of the lucky ones, you'll feel happy with it, but in most cases you'll find at least some things you want to change. Prepare the change inwards and then start acting accordingly.
Daily Predictions for Capricorn:
Some money you must spend on your home and family. Some you think you must. So, decide wisely. In any case the amount seems big enough, think twice before spending it. A better and more economic solution may exists. Very potent day for money spells, but always keep in mind that the eclipse's energies are not easy to tame.
Daily Predictions for Aquarius:
Your self is talking loudly. In some cases too much so. Calm down, but listen to your inner voice. You need to change some things about you. This is a good thing. This is progress. But you need to put them in order and do it slowly. A friend, a sibling, or a sibling figure may have to offer a good advice to that end.
Daily Predictions for Pisces:
Your money related intuition starts to raise. It's a good opportunity to make plans on how you'll act from now on to better your financial status and your career status. In most cases your tendency to spend more is also raised. Spending feels right, but don't believe that unconditionally. Don't be stingy, but don't be spendthrift either.
Astrology and Magic:
Today is a very potent day for magic for contacting other realms, karma cleansing and removing of obstacles.
That's all. Have fun and enjoy your day.