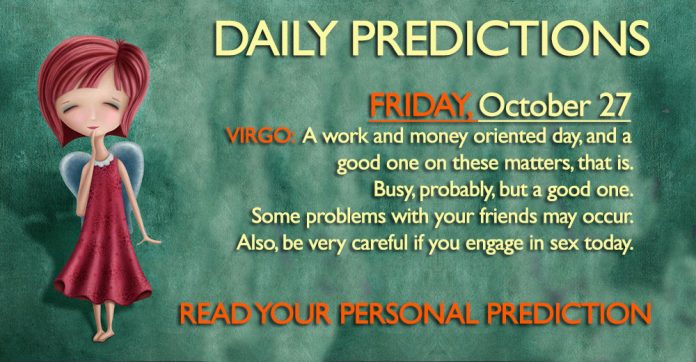 General Daily Predictions: Today the Moon from Capricorn forms a hexagon with Chiron in Pisces and a square with Uranus in Aries. Then it will enter Aquarius and from there it will form a triangle with Mars in Libra, a square with Jupiter in Scorpio and a square with Sun, also in Scorpio. This is the First Quarter of the Moon. Also, we'll have seven and a half hours of void of course Moon. This will be from 5:22 to 12:58 UT.
Also, Pluto is strong today too, and will remain so for several days. Both Mercury and Venus focus their energies on Pluto. Mercury beneficially, but this isn't the case with Venus.
So, this is a mostly stressful day. Mars from Libra is in relatively good mood, so we'll have plenty of energy to deal with whatever happens. Even more, some good things can come our way. Chiron's positive input may not be that perceivable, although Mercury also starts supporting Chiron today. So, yes, this is a stressful day.
The luckiest zodiacs of the day are Pisces, Libra and Cancer. Aries, Capricorn and Aquarius will be the ones receiving the most stress. Scorpio, will probably be one of the luckiest zodiacs despite the strong stressful aspects it receives. Sun's and Jupiter's conjunction is too strong to be totally overwhelmed.
Daily Predictions for Aries:
Meeting new people as friends, potential partners and things like those is favoured. Also social media and other internet activity is auspicious and lucky. People around you, though, tend to irritate you very much. Especially those who you consider important. And even more, you feel out of balance and out of place quite often today.
Daily Predictions for Taurus:
Work matters are favoured. Career goals proceed nicely. Interactions with your partners may be challenging. This will a busy day, with some complications, but productive and satisfying, nevertheless. Watch out for exhaustion, though.
Daily Predictions for Gemini:
Travelling for pleasure is favoured. Planning such trips is also good. Those on vacation will have a very nice day. Work can be very stressful, or even disappointing today. Business partners can also be stressful.
Daily Predictions for Cancer:
Things with your lover or spouse needs some attention. Some fears about your career also can occur, but they are probably nothing more than fears. But, your family and the people you consider most important will be by your side and supporting you in many ways, and this will be much more important for you.
Daily Predictions for Leo:
Love life is auspicious for those of you already in a relationship. Usually, when I say it this way I mean those in a marriage as well, but today this isn't the case. Family and your spouse can get on your nerves.
Daily Predictions for Virgo:
A work and money oriented day, and a good one on these matters, that is. Busy, probably, but a good one. Some problems with your friends may occur. Also, be very careful if you engage in sex today.
Daily Predictions for Libra:
This is a very good day for you. There may be some issues regarding money or possessions, or some irritability in your interactions with your spouse or lover, but they won't play the major role in the day. Your mood is good, and your luck too, so you'll be satisfied by the day.
Daily Predictions for Scorpio:
You'll be a little like a split personality today, other times feeling exquisitely well and optimistic, and other times feeling discouraged. Jobs of cosmetics, personal trainers, lawyers and similar jobs will have a very productive day. Mind your health, though!
Daily Predictions for Sagittarius:
A very busy and very social day for you. Meeting new people and expanding your social and professional circle is possible. If you work through phone, mail, or internet, or your job has much interaction with the public, then this will be a tiresome, yet productive day. Love life may need some attention.
Daily Predictions for Capricorn:
This is a good day for most of career and financial matters. Internet transactions can be unwise, though and some problems can occur with your business partners. Avoid signing new contracts all day long, especially during the void of course Moon. Plumbings and the like may also cause some problems.
Daily Predictions for Aquarius:
This is a peculiar day. Your self-confidence and self-esteem raises as the day proceeds, but things won't be easy. Challenging at the very least. Both career and your personal relations can be stressful. Students, though, will have a nice day. Those on relaxing vacations, too.
Daily Predictions for Pisces:
Your magical powers and your intuition are very strong today. This is also a mostly pleasant day. You communicate with your important people very nicely and very deeply. This leaves a feeling of satisfaction in you, that overwhelms the here-and-there minor problems.
Astrology and Magic:
With Chiron, Pluto and Saturn strongly active, we can say that Halloween has come a little early this year. So, as I say every day, Magic about sex, dreams and the astral plane is very strong for everybody, and will remain so until Halloween. Today, again, is even stronger, and this won't change until Halloween. Earth Element is very strong, and so is all its magic. Age-reversing beautification and all beautifications that remove unwanted characteristics are very strong. Water Element remains strong. All meditative and hypnotic techniques are very potent and will remain so until the Third Quarter.
That's all. Have fun and enjoy your day.