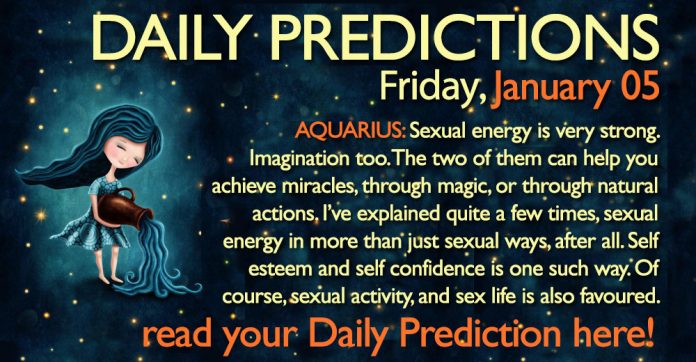 General Daily Predictions: Today, the Moon stops being void of course at 8:12 UT and enters Virgo. From there it forms a triangle with Saturn in Capricorn.
So, this is going to be a good day. Effort is needed to make it a great day, but the more we try the better and more permanent results we'll have. We just need to choose wisely where to focus our energies, as the day has no more than 24 hours.
Capricorn, Virgo and then Taurus will be the luckiest zodiacs of the day. Cancer, Pisces and then Scorpio will be the ones facing the most stress.
Daily Predictions for Aries:
Advancing your job and career goals is favoured. Working on your health and body image also receives some beneficial influences. Getting fit, or reducing your weight more than gaining muscles or weight. Business about health and beauty, are the ones receiving the most influences.
Daily Predictions for Taurus:
This can be a joyful productive day for you. Adding relaxing meditation, or creative visualisation in your daily schedule can make the day even better. It can also help the days to come. Artistic creativity and studies are both favoured. Furthermore, places of studying, or art can become a place where you'll meet a potential lover.
Daily Predictions for Gemini:
Healing of body, soul and, also, of your relationships – not only the romantic ones – can become very promising today. Regarding the relationships, strengthening the bonds in them, also receives beneficial influences.
Daily Predictions for Cancer:
Co-workers, business partners and probably a boss figure can play an important role in your day. As it's Saturn that brings this influence, it is mostly up to your hand to turn this role to a good, or even a very good one. Act wisely and the benefits will last for much longer than the day.
Daily Predictions for Leo:
Correcting situations and healing "wounds" in your work and in your financials is favoured. Work on that. New investments to gradually raise your financial status, also receives beneficial influences. If you want to do something like that, though, ask the advice of an expert. Business of health can have a very promising day.
Daily Predictions for Virgo:
This is a very good and quite a joyful day for you. You have to work on the joyful part, but you can make it happen. You feel motivated and self empowered. Use these fuels to create a good day and better situations for the coming days. Love life, especially for those seeking a relationship and for those who have recently started being in one, is supported.
Daily Predictions for Libra:
Finding time to take care of yourself is something you should be doing. Situations may force you to that, but it is a wise thing to do even if no demanding necessity occurs. Family can also ask for your attention. Offer it while respecting yourself and your needs.
Daily Predictions for Scorpio:
All kinds of trade receive beneficial influences. If your line of business is this, or you want to start a trading business, then make the best use of the day you can. In the same time, it's a good day for shopping. If you want to buy anything, and especially things of considerable cost, this is a good day to do that.
Daily Predictions for Sagittarius:
This day offers you some luck regarding money and business. Cooperate with this luck to turn this day to a magnificent one, or to the first day of a magnificent period, regarding these matters. Searching ads, or sending CVs are two examples of what you can do. Of course, find the best actions for your case.
Daily Predictions for Capricorn:
Studies and arts receive very good influences today. Standing out in your subject can happen. Setting the foundations for that, is also favoured. Promoting yourself will help you more than promoting your achievements, or creations. All other business receive similar influences, just not as strong.
Daily Predictions for Aquarius:
Sexual energy is very strong. Imagination too. The two of them can help you achieve miracles, through magic, or through natural actions. I've explained quite a few times, sexual energy in more than just sexual ways, after all. Self esteem and self confidence is one such way. Of course, sexual activity, and sex life is also favoured.
Daily Predictions for Pisces:
Partnerships, life or business, receive every kind of beneficial influences. Healing problems in such relationships is favoured. The same goes for finding a new partner, strengthening the bonds with the ones you have, making your relationship more serious and official, having creative and inspiring meetings and discussions… In one word, everything!
Astrology and Magic:
Meditation and especially healing meditation is very strong. All magic that makes use of visualisation or meditation is also very strong. Wish manifestation, too.
That's all. Have fun and enjoy your day!