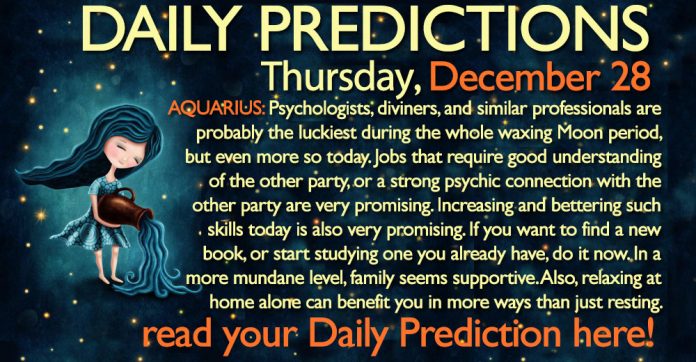 General Daily Predictions: Today the Moon enters Taurus and from there it triangles Saturn, Venus and the Sun, all of the in Capricorn, all of them in conjunction with each other. So, do refer to the New Moon's predictions and the New Moon's zodiac predictions as today Moon highlights the most of the positive aspects and influences we've seen there.
In short, this is going to be a good, lucky and mostly easy day. Do your best to make the most out of it!
Capricorn, Taurus and Virgo will be the luckiest zodiacs of the day. Cancer, Scorpio and Pisces will be the less lucky ones. Just to clarify, saying "less lucky", doesn't mean "unlucky" at all.
Daily Predictions for Aries:
All business matters are favoured today. Despite the season, even opening a new business is auspicious. Of course, this may need some time, but do whatever you can do on this target, if this is what you wish. Finding a new job is also auspicious. Money is also lucky today. Both the one you receive as a payment for your efforts and the gambling kind of it. Let me emphasise once again that the stars raise your odds, but they don't secure your wining. Therefore, always play wisely.
Daily Predictions for Taurus:
You feel energised and self-confident today. This can boost all aspects of your life. Studies, learning, philosophy, literature and all jobs and hobbies relating to these receive the most blessings and the most good luck. Love life also receives very good influences. Especially where a significant age difference exists, or where the relationship is a student-teacher kind of one. Needless to say, an actual student and an actual teacher are not mandatory for such a relationship to exist.
Daily Predictions for Gemini:
All your magical, spiritual and mental powers are very strong and capable today. This, of course, includes intuition and foresight. You also receive much psychological support from your most trusted people. If you have any psychological problems this is a good day to deal, or start dealing, with them. Sex life and sexual imagination receive some blessings. Finding a new lover is possible, trying new things in bed is advisable. At the very least, enjoy these mentally.
Daily Predictions for Cancer:
All relationships receive a good amount of blessings today. Friendships, acquaintances, partnerships and, of course, love relationships. This is also a good day to find new such relationships, if you are seeking any. If not, enjoying them, as well as being with these people, can be the best way to improve these relationships and also benefit your lives in the long run. Business meetings can be very creative, but try adding a pinch of fun, now and then, for better results.
Daily Predictions for Leo:
Work is probably the main subject of the day, and in a purely beneficial way. Expanding and promoting your business, receiving a salary raise, getting a promotion, achieving a good business deal, or whatever can better your professional life and status can happen. Setting the foundations for these things to happen is also possible. Health also receives some beneficial influences. If you have any problems there, and especially related to the skeletal system, expect some nice developments.
Daily Predictions for Virgo:
This can be a very happy day for you. Good luck can follow everywhere and bless all aspects of your day. But even more so, realising what really makes you happy and working on this will help you create a long-lasting joy in your life. Start acting upon such goals. Love life also receives bright energies. Long distance relationships receive even more blessings. Trips bring blessings both to existing relationships, and to those seeking one.
Daily Predictions for Libra:
Those of you in a relationship, or a marriage will have a very nice day. Your special somebody can become more intimate, sexually and not sexually. Your relationship can become more serious or more official, as well. Moving in together, or deciding to do so are both auspicious. Other than love life, your family can become important and a source of joy and pleasure today. It's also a good day to re-warm and enforce your bonds with them.
Daily Predictions for Scorpio:
Friends, co-workers, siblings and your spouse, or partner can better your day in many ways. Being with them can be both fun and creative. You communicate better, and whenever this is applicable, inspirational thoughts can come up through interacting with them. A better work plan, a better way to deal with a situation that bothers either you or them… things like those can occur. Escapes with your beloved one are very auspicious, too.
Daily Predictions for Sagittarius:
Work can be very profitable today. Not necessarily easy-going and relaxing, but profitable. Investments can also give an extra profit. New ones are auspicious. Furthermore, this is a good day to work on a long term raise of your financial status. Healing problems in this aspect of your life can be part of it. Finding new, or better ways to gradually increase your income is very promising.
Daily Predictions for Capricorn:
No matter the difficulties and the stress occasionally put on to you during this waxing Moon period, this is a very beneficial and happy period for you. Today will be a good example of this. All aspects of your life receive good luck and joyful influences. Even more, creating the circumstances of a lasting good luck and joy is possible. If you have already set the wheels in motion, reinforce your efforts today.
Daily Predictions for Aquarius:
Psychologists, diviners, and similar professionals are probably the luckiest during the whole waxing Moon period, but even more so today. Jobs that require good understanding of the other party, or a strong psychic connection with the other party are very promising. Increasing and bettering such skills today is also very promising. If you want to find a new book, or start studying one you already have, do it now. In a more mundane level, family seems supportive. Also, relaxing at home alone can benefit you in more ways than just resting.
Daily Predictions for Pisces:
Your social life is on fire today, and I mean it in a good way. Both person to person socialisation and the internet kind of it are receiving many blessings. Finding new friends, meeting new people, finding new customers, launching an advertising campaign and things like those, are possible and auspicious. Purchasing new computers, phones, or other gadgets is also auspicious. If you need any, for personal, or professional use, try buying them, or ordering them today.
Astrology and Magic:
Wish manifestation, love magic and business success magic are the stronger forms of magic today. Adding meditation, or visualisation to your spell casting will empower your spells a lot.
That's all. Have fun and enjoy your day!