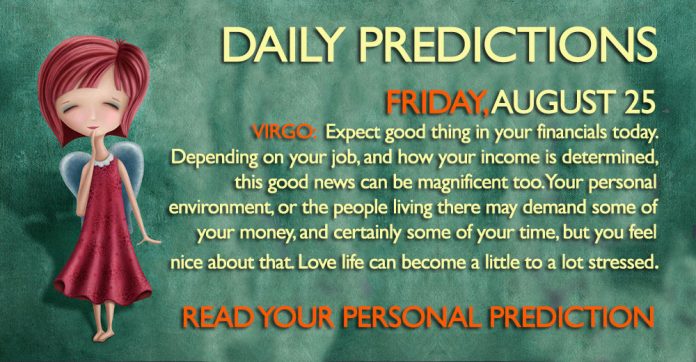 General Daily Predictions: Today will be a mostly good day in almost every aspect. Moon from Libra will form a square with the retrograde Pluto in Capricorn, but after that, it will only form auspicious aspects. These aspects will be a conjunction with Jupiter, a hexagon with the still Saturn in Sagittarius, and a hexagon with Mars in Leo. I call Saturn "still" because it actually looks immovable as, although theoretically in retrograde motion, it remains in the same spot in order to start its direct motion from tomorrow on.
So, yes, it will be an easy day and probably productive. There are some long lasting influences that are still very present. These are the triangle of Venus and Chiron (read about it in the predictions of the 23rd) and the square between Venus and Uranus (read about it in yesterday's predictions). The ecliptic influences are still present too, but not that strong any more.
Libra, Leo and Sagittarius will be the luckiest zodiacs of the day. Capricorn, Aries and Cancer will be the most stressed ones.
Daily Predictions for Aries:
Love life and sex life are still important, and progress well. Sex life actually, today, can be very satisfying if you give it a chance. Some problems though may occur in the career. A change in your business partnerships is possible too. Even if there isn't an actual change of a person (or more than one), the situations in this partnerships changes.
Daily Predictions for Taurus:
Reorganising your daily life and routine, as well as your job is still the tread, and you are doing marvellous today. Maybe some shopping is needed. Do it. Just avoid overspending. Sex seems also important, but probably mostly in your thoughts than in your actual schedule of the day. Fate changing magic, as a whole or partly, is very strong for you. Avoid, though, taking serious decisions today.
Daily Predictions for Gemini:
This is still a very lucky day for you. If you are in a relationship things are pleasurable there. If you are seeking one, today can be your lucky day. Friends are present, caring and loving. Some stress may be generated from your siblings, but nothing really serious. Be a little extra careful when engaging in dangerous activities, or avoid them if you can.
Daily Predictions for Cancer:
Your focus on you home and family, or whatever and whomever you think as that is still strong. Work becomes part of your focus, in a pleasant way though. Money can be a little stressful, but in no way bad. It's just that you may need or, most probably, want to spend more money than you can easily spend right now. If you are in a relationship be careful today. Things there seem stressful and a break up is possible if the relationship doesn't have strong roots.
Daily Predictions for Leo:
This is a much, much better day than yesterday. You are full of energy and self confidence. You radiate it and things go well in almost every aspect of your life. Social and love life are included. In the work area, though, you may need to try harder. Some disappointments can come from your co-workers too.
Daily Predictions for Virgo:
Expect good thing in your financials today. Depending on your job, and how your income is determined, this good news can be magnificent too. Your personal environment, or the people living there may demand some of your money, and certainly some of your time, but you feel nice about that. Love life can become a little to a lot stressed.
Daily Predictions for Libra:
Today you feel much stronger and much more self-confident. This is obvious both when you are alone with your thoughts and when you are interacting with others. And your interactions are mostly happy for you. Internet communication is also a mean for these interactions. From there you may face some stress, but you are stronger than that. Good day to grow audience on the internet if you are using it for professional reasons.
Daily Predictions for Scorpio:
This is a day to work on your feeling secure. A very good day for protective charms for yourself and your home. A very good day for career and money matters too, both spiritually and mundanely. You may come across an important career decision or opportunity. Be extra careful before deciding, but don't fear to do so. Your friends seem a little distant today, or you keep your distance from them.
Daily Predictions for Sagittarius:
A very good day to promote your self and business through internet or other media. Preferably internet though, and preferably in a personal way. This will give the best results. In the long run, even better. You may need to spend some money on this or other needs. You don't really feel like doing so, but it seems like you can avoid it. In your personal time, my advice will be the same as yesterday. Be with friends, and especially those with whom you can have a enjoyable time. Today this may come to you even if you don't try to make it happen.
Daily Predictions for Capricorn:
You are still focused on your career. Today things feel better than yesterday. Your inner strength is there to support you. Your subconscious works for your benefit. Still, not everything between you and yourself have been settled, but today you are in the same team. Magic is very powerful for you today. Especially work and career related magic.
Daily Predictions for Aquarius:
You feel the need to communicate your visions and ideas with others. This actually in most case is received with enthusiasm. In some cases the ones you talk to about them are helping you built better and more achievable dreams, or give you ways to actually achieve what you want to achieve. So do, communicate your ideas with others. Even with people you don't know personally and are just people you interact on social media. If you try to do the same thing with your spouse or business partners, then you may find yourself in a fight. You'll probably be the winner, but are you up for the fight?
Daily Predictions for Pisces:
Love magic is still strong. Even if it's not as strong as yesterday, it is strong, and today work, career and health magic is also strong. You may be a little stressed for your health, and especially of your sexual health or muscular health. In both ways, this is mostly a stress. Take good care and all precautions, of course. On the other hand, starting a gym program, or something alike, is favoured.
Astrology and Magic:
Love spells of every kind are still very strong. Karma cleansing is still good. But wish fulfilling is very strong today, too, as well as all fire spells and magic of every kind.
That's all. Have fun and enjoy your day.