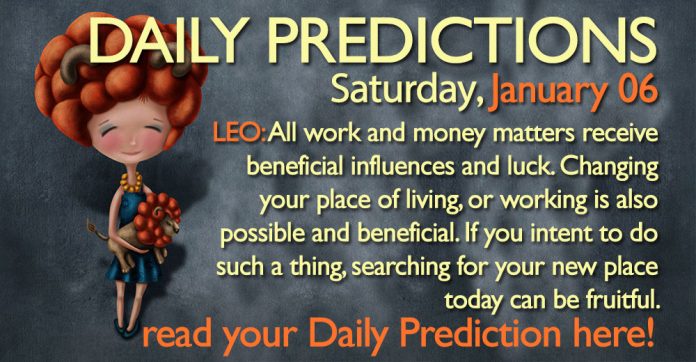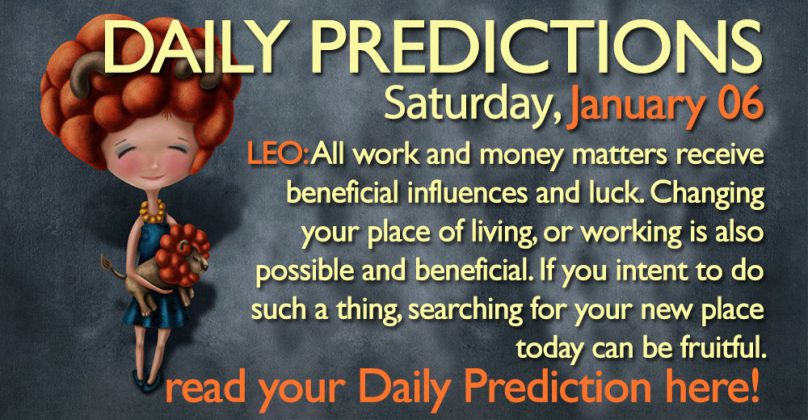 General Daily Predictions: Today, the Moon from Virgo forms a triangle with each Venus, Sun and Pluto in Capricorn. It a also forms a hexagon with each, Mars and Jupiter in Scorpio.
So, most of the planets and the auspicious long lasting aspects receive the beneficial blessing of the Moon, today. This is going to be a very good day. Please do refer to the Full Moon's article and the New Moon's zodiac predictions, for better understanding the potential of this day. Of course, it is one day, only, but let's make it a great one!
Capricorn, Scorpio and Virgo will be the luckiest zodiacs of the day. Cancer, Taurus and Pisces will be the less lucky ones.
Daily Predictions for Aries:
Everything that has to do with your career and work receives very good luck today. Magic and metaphysical activities, also receive good vibrations. Sex appeal can be bright enough, and, also, you can improve it even more, in a more permanent manner.
Daily Predictions for Taurus:
Happiness and good luck is what this day tries to bring you. Money and work are the aspects that receive the most weak help and focus. Studies, and love life receive the most strong help and focus. Nevertheless, whatever you want to better in your life, act upon it. Distracting yourself, though is easy. Avoid it.
Daily Predictions for Gemini:
Health, classic and alternative healing and anything that has to do with health, healing and beautification receives very beneficial energies today. Jobs about these can be very prosperous. Initiating a therapy is auspicious. Starting and concluding lessons in these subjects are also very auspicious.
Daily Predictions for Cancer:
All forms of human interactions receive all kinds of luck. Finding a new friend, lover, client, whatever; healing your relationships with them; bettering and strengthening your bonds with them, and whatever else. Your kids may also bring you some joy.
Daily Predictions for Leo:
All work and money matters receive beneficial influences and luck. Changing your place of living, or working is also possible and beneficial. If you intent to do such a thing, searching for your new place today can be fruitful.
Daily Predictions for Virgo:
There is a huge concentration of energies on you. Anything you want to achieve you can make it happen, today. Do make the best use of this day. Love life and important personal relationships receive beneficial and expanding influences. Therefore you can enjoy some good time with your current such relationships and you can find new ones.
Daily Predictions for Libra:
Money matters receive very good influences today. Not the gambling, though. Nevertheless, there is luck in this subject. Those working from home, and, also real estate and similar business receive even greater luck. Scheduling, planing and finding new strategies and solutions to existing problems are all very promising for you.
Daily Predictions for Scorpio:
Trade, of all kinds, receives very good luck. Even better than yesterday. All other business, too, just not as much. Expanding your social circle and empowering your position in it, is favoured. Offering attention to people around you can make you shine more than focusing the spotlights on yourself, on this matter. Hunting, literal and metaphorical, is very promising.
Daily Predictions for Sagittarius:
Business and money matters receive even more luck and blessings than yesterday. Gambling luck is also strong. Once again, the stars don't guarantee your victory. They just raise your odds. So, play wisely. Philosophy, metaphysical studies, as well as studying for and practising of psychic abilities receive very good energies, whether you do it as a job, or a hobby. So, this influence concerns the teachers of the subjects as well.
Daily Predictions for Capricorn:
All forms of studying, researching and reading receives very good vibes today. If you are a student, I know it's Saturday, but do your best today. You'll achieve better results and much more easier. Teachers, authors and similar professionals can advertise themselves and what they offer. Yet, focus on yourself. Publishers and similar business receive very good influences, too. But, even if you don't belong in any of these categories, you receive a great amount of beneficial influences and luck. Enjoy this, and make a good use of it!
Daily Predictions for Aquarius:
Magic, intuition, empathy, creativity, imagination and sexual energy are very strong and bright today. Whatever makes use of any of those receives good luck and can make you happy. Business and professions that make use of any of these, or intent to better any of these, also receive very good luck. Receiving help, or support towards an important for you goal, is very possible.
Daily Predictions for Pisces:
Partnerships, life or business, receive every kind of beneficial influences. Today bettering and expanding are stronger than healing, but all aspects are still strong. Long distance relationships may receive even better influences. Discussions with your partners can be very fruitful, especially if they happen in a relaxing way.
Astrology and Magic:
Good luck, success money and happiness magic is very strong today.
That's all. Have fun and enjoy your day!